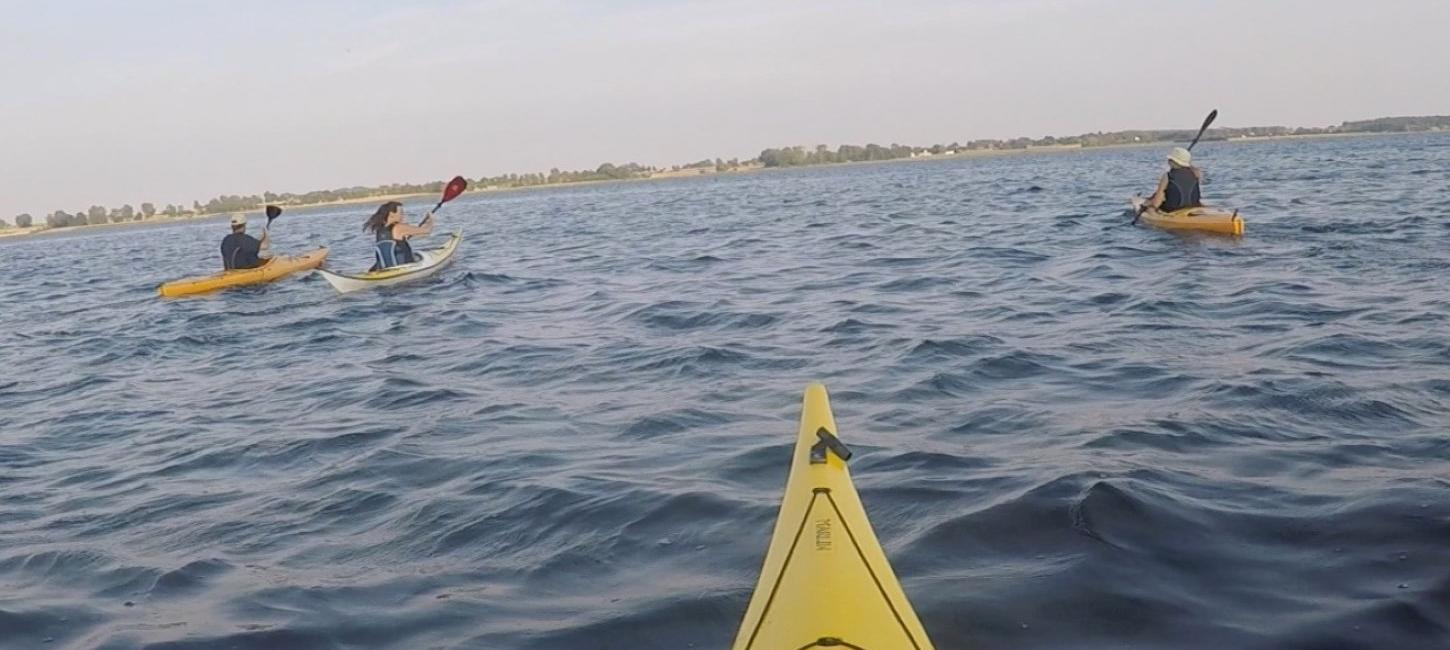 Kayak Route | Around Kerteminde Fjord & Kertinge Nor
This kayak route moves around in the beautiful scenery along Kerteminde Fjord and Kertinge Nor
Here you can experience a rich bird life, which is possible to get close, if you move quietly forward. In the high skies, you may be lucky to see a pair of eagles hovering majestically on the upwind winds to suddenly dive for a possible prey, flocks of lead hens cradling in the ripples of the water surface.
The fjord wide offers changing experiences, which is why it is strongly recommended to sail close to the shore, as you get closer to the diverse expression of geology and culture, as well as wildlife. Forests, slopes, sandy beaches, reefs, a castle, perhaps a Viking ship, village churches, fishermen who ruminate their nets etc.
Another advantage of always - as far as possible - sailing along the coast and wide is to increase safety considerably. Should you capsize, you will most often be able to bottom and if necessary go ashore for a while.
Distance of the route - 22 km
If you want to scale the distance of the route, this can easily be done. You can also choose which of the loading points you want to choose, and from here compose your own route and its length.
Severity assessment: Medium difficult
The assessment is based on sailing along the bank of the fjord, so it is possible for slightly practiced sailing here, as you will always be able to bottom. Moving out into the fjord increases the difficulty, so it requires good kayaking skills. If you are alone and cannot bottom you must as a minimum be able to perform a solo rescue and in a group a companion rescue.
Security. You are fully responsible for your own security. It is completely your own decision and responsibility to go our kayaking. The following is just advices meant to be a service for you, and not more!
When kayking in winter special safety measures apply if you are sailing in the winter.
Here are some rules of thumb.
'Make sure you are able to perform a mate rescue and a double mate rescue. Otherwise, do not go out!
Beware of the cold, which is the greatest danger. It is best to wear a dry suit, but a neoprene suit also goes, where under one is warmly dressed in wool underwear etc.
Do not kayak alone in winter. If you captize, it is important that there is another kayaker that can rescue you.
Always stay near the coast in winter, so you can get ashore quickly if you need to pamper. Don't just jump over a bay of electricity. like.
Always remember mobile phone in waterproof bag.
A complete set of changing clothes in a waterproof bag is mandatory in winter. Woolen underwear, fleece sweater etc. An extra wool cap is good if you need the heat again.
Loading-, break points & sights
If you are not an experienced and experienced kayaker, it is recommended that you do not bring your kayak in from the harbor. This is because it can be very insidious to have to pass the "red spots" in the form of strong countercurrents, which are in the waters between Rudolf Mathis and former Cafe Mathis. Therefore, set from one of the following 2 loading points.
Unique nature experiences await on the water
Nature experiences on the water
From a smaller vessel like a kayak you can get really close to nature and get some unique nature experiences. Moving silently forward can be unnoticed by animal and bird life. When the coastal landscape is experienced from the outside, it happens on a larger scale than one can walk along the coast and wide. It is possible to get to otherwise hard to reach places.
A greater knowledge and awareness of nature can enrich one with even greater experiences on the water. At the same time, a deeper understanding of nature can sharpen the attention to exhibit a more nature-friendly behavior.
Here are some tips for practicing nature-friendly behavior as well as rules that apply to the coast
What to pay particular attention to
During the breeding season from the beginning of March to the end of July, it is important to pay special attention to the birds and their young.
Landing is not allowed on most uninhabited islands and islets during the breeding season
Never stay near bird nests and cubs. Never closer than 300 meters from bird colonies.
How close must you get to the birds/animals?
You should sail around larger flocks of birds.
Don't get too close to swans when they trap their fly feathers during the summer and can't fly. Since they cannot move very far very quickly, they are easily stressed.
If you are lucky enough to meet guinea pigs and seals, you do not move closer than 100 meters.
A selection of the rules that apply to the coast
Do not stay on private beaches closer to 50 meters from residential buildings.

On the coast, with few exceptions, one must travel on foot up to where the continuous land vegetation starts.

You must have a boat without a motor on the beach for a short time,

You must briefly stay and swim on the beaches
Text and photo by Erik Østergaard