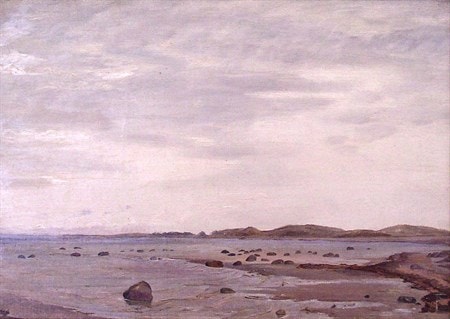 Theodor Philipsen: Landscape. The north coast of Funen
Theodor Philipsen was, as far as we know, the first artist to discover Funen's Head, and he became a kind of mentor and source of inspiration for the group of "Fynbomalere" (paintors of Funen) who later came to Funen's Head – including Johannes Larsen and Fritz Syberg.
The painting above is the first known image of Funen's Head. It was painted while Philipsen was visiting art enthusiast baron Juel-Brockdorff on the estate of Schelenborg, Hindsholm. Although Philipsen was from Copenhagen, his love for nature and animals dominated his art. He therefore had to go outside the city, often to Amager or the island of Saltholm, but he also visited Funen's Head.
The French art environment inspired Philipsen, and he gained great importance as mediator of the French impressionism's ideas on the use of light and color in Denmark – among other things. However, he had a more naturalistic approach to painting than the French impressionists, and modern life did not interest him. Instead, he painted nature and became specially known in posterity for his paintings of cows at Saltholm.
This piece was painted before Philipsen's trip to Paris with artist colleage Lauritz Tuxen, and before he became friends and inspired by the French painter Paul Guaguin, who in the winter of 1884-85 stayed in Copenhagen. Theodor Phillipsen has painted hee the shallow water and the flat sandbanks on the east side of Funen's Head, but without the short, dynamic and color-saturated brushstrokes and vibrating light he then became known for, which creates a special life and dynamic in many of his later paintings