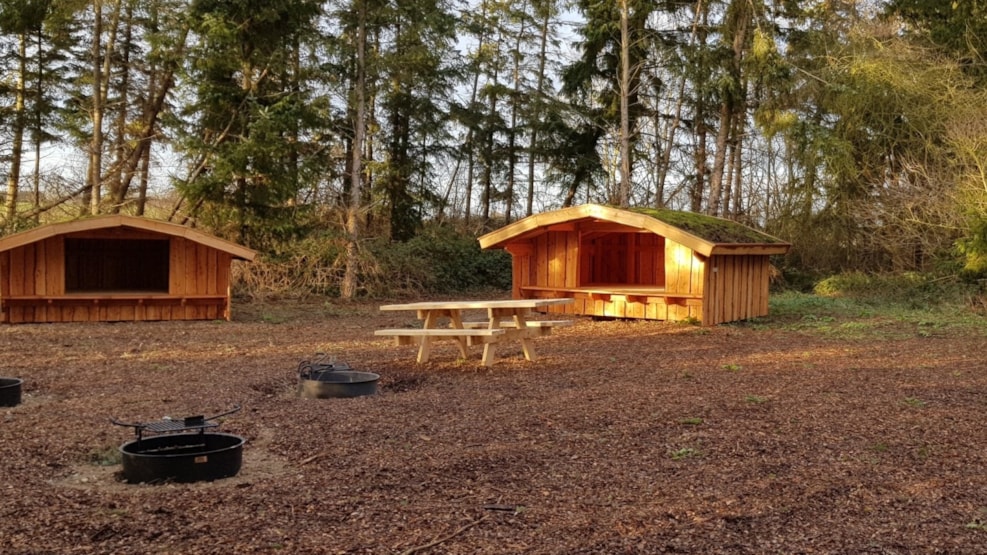 Sybergland Shelters
Sybergland Shelters is located in a beautiful recreational nature park in Kerteminde.
Sybergland Shelters is located in a recreational nature park with fresh meadows, where nature must be allowed to develop. A newly created lake gives life to both areas.
In Sybergland there are also good hiking trails and rich bird life, where the birds have first right to the lakes, so it is not allowed to travel in or on the lakes.
Facilities at Sybergland Shelters
In 2019, 4 new shelters were built, which can be booked. Just 500 meters from the shelters, a learning environment has been built and toilets have been built.
Number of shelters on the site: 4
Number of sleeping places in the shelters: 20
Tent space: No additional tents may be erected.
Drinking water: There is tap water at the learning environment.
Wifi: 4g.
Toilet: There are 2 toilets at the learning environment approx. 500 m from the shelters
Bathing: There are no bathing facilities, and for safety reasons you may not bathe in the lakes.
Fire pit: Yes. Only fire in fire pit.
Firewood: You must bring your own.
Distance to lake: 20 m.
Dog: May be brought along if it is kept on a leash.
Booking Sybergland Shelters
It costs DKK 30 per overnight stay in Sybergland. The shelters can be booked 100 days in advance.
If you are a school class or similar that needs a longer time horizon, write to kontakt@bookenshelter.dk.