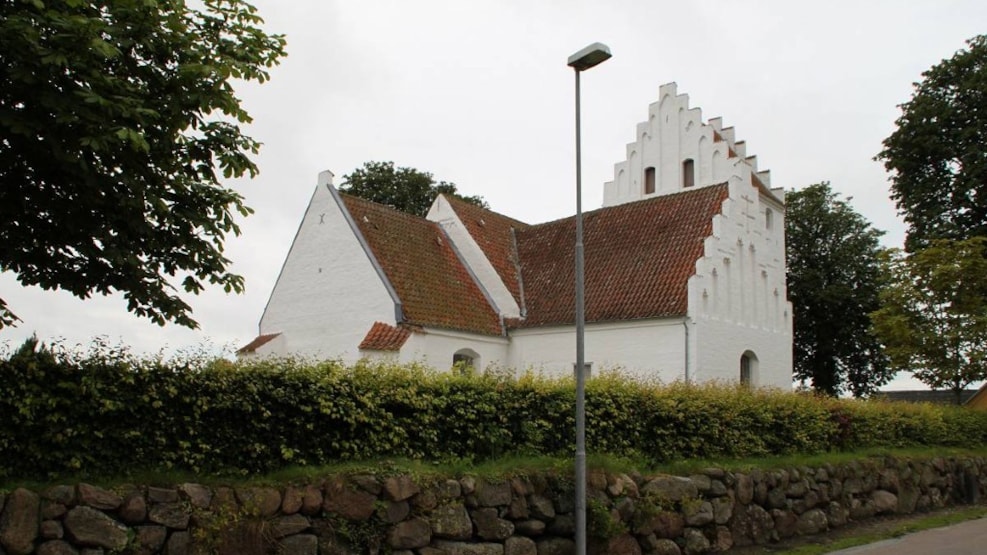 Rynkeby church
Rynkeby church's choir and nave were built in the 13th century.
The chapel to the north was built in 1560 as a burial place for the Hardenberg til Skovsbo ​​family, who, however, never came to rest here, as 16 empty shields for arms bear witness to.
The church is particularly interesting because of frescoes, a unique Renaissance decoration in the chapel. Choir and nave are late Romanesque, an original feature is a bricked-up window in the south wall of the nave.
From late Gothic times, the tower, chapel and porch all have gables, and the chancel and nave were vaulted.
The enthroned figure of Christ painted in the east mantle is surrounded by the blessed above and the risen dead below. On each side are seen six apostles. Jesus raises his hands in blessing, and the image (the other three robes) is surrounded by a full orchestra of a total of 32 angels, all brought out in 1964. The angels each play a different instrument - a unique representation of great musical historical interest. The altarpiece from 1936 frames an older painting: Let the little children come to me. Romanesque granite front. Oak crucifix from 1938 in Gothic style.