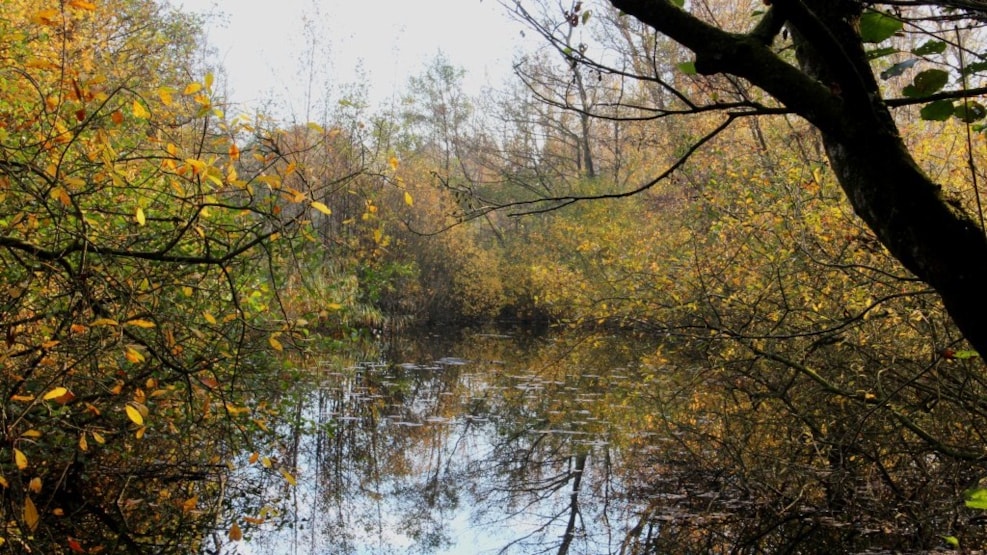 Rønninge Mose
Rønninge Mose is an approx. 11 ha large marsh area south of Langeskov.
The bog is part of a large bog/lake area such as a. also includes Maries Minde Mose, Nonnebo Mose, Lavindsgaarde Mose, as well as Røjerup Mose, which until the motorway crossed in 1980 was part of Rønninge Mose.
The history of the Moss area
This entire large marshland was formed during the last ice age as a so-called dead ice landscape. When the ice retreated, the large lumps of ice left holes in the landscape, and thus the marshes and lakes were formed.
Historical finds in the bog
Through various investigations, many findings from the Stone Age have been found in the area, such as traces of settlements and a number of axes, both stone axes and deer antler axes.
As a curiosity, in 1942 a trunk boat of 2.6 m was found, dated to 3950 – 1701 BC. As the boat was in very poor condition, it was never taken up. So it is still in the depths of the bog.
Throughout many times, from the Bronze Age to both the 1st and 2nd World Wars, peat has been cut in the bog.
According to old sources, the area has always been used for fishing. Perch, eel, pikeperch and other fish have arrived on the dinner table.
Tips for a trip in the bog
Take the trip from Bytoften (or through Rønninge and Mosevejen) out through the bog and let yourself be captivated by the magnificent nature. Without a great imagination, one can easily dream back to the Stone Age people who lived here approx. 6000 years ago.
Unfortunately, the bog itself is not suitable for people with reduced mobility. If it has rained a lot, it is almost impossible to follow the path. Just in case, remember the waterproof boots!
Photo and text: Nature guide Tonny Jack Nielsen.