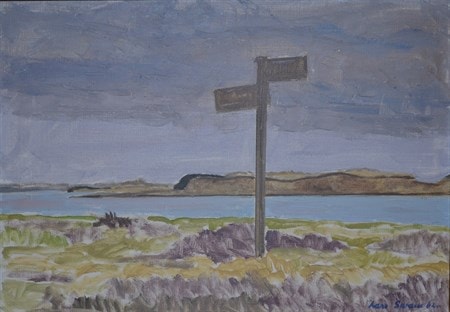 Lars Swane: View of Mejlø
From the bay where Fritz Syberg's children bathed over 100 years ago, Mejlø looks like a small round peak in the water. However, this is only when you see the island from the right angle, against its high cliffs. In fact, Mejlø is an elongated island, as we can see in Swane's painting. The island forms a beautiful shape with a flat tip protruding into the water and it curves into arches the beautiful arches, which the artist has highlighted with a dark contour line. One could easily think that this was pure fantasy, but the reality is that it is possible to see an almost completely black shadow on the island's left side of the cliff, when the weather and time are right.
Lars Swane has mainly painted in North Zealand and Vestsyssel, but as the son of artists Christine and Sigurd Swane, and nephew of Johannes Larsen, he was familiar with the Kerteminde area and also came to Funen's Head.
There, he stood on the beach meadow at the headland Korsøre at Korshavn and painted the view towards Mejlø on a cloudy day, which gives a slightly bleak mood to the painting. The sky seems dark and Mejlø stands in brown colors. Apart from the bright yellow and purple colors of the foreground beach vegetation, the colors in the painting are very subdued, which is actually a bit atypical for Lars Swane, who often painted quite colorful sceneries.
The beach meadow in the painting is, as of today, a beautiful area with dry meadow growth, whose yellow-brown colors form a nice contrast to the blue-gray water and sky, which completely surround you when staring at Mejlø.