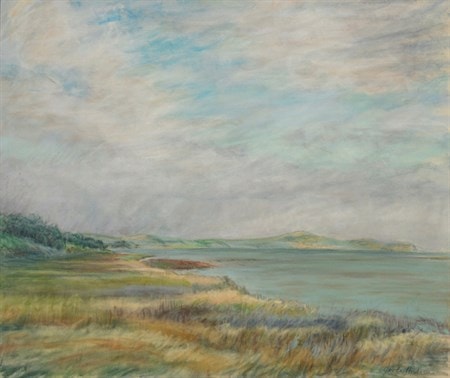 Gerda Andrea Heltoft: The Common Beach – towards Funen's Head
Artist Gerda Andrea Heltoft was both geographic and artistically closely related to Funen's Head. In 1962, she moved with her husband to a closed school in Nordskov – the northernmost city on Hindsholm, closest to Funen's Head.
Funen's Head nature is central to Gerda Andrea's motives, as here where she depicted the view from the public beach bellow Jøvet, towards Funen's Head, and the beautiful cloud formations in delicate pastel colors.
One can clearly recognize Funen's Head's characteristic hills but the flat headland neck, which connects Funen´s head with the mainland, appears here somewhat higher than in reality. It must be artistic freedom.