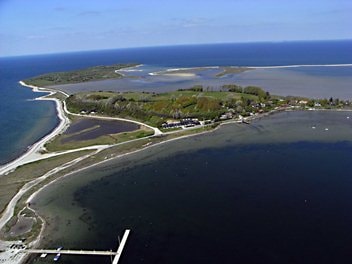 Fynshoved beach
Fyns hoved is the top of Hindsholm and the top of Fyn. Here there is water on both sides and for many, it is compared to Skagen. The biggest plus of Fyns hoved is the fact that it rains 25% less than Denmark's average.
Fyns hoved has two places where you can enjoy the beach and get to some swimming. One on the east side in the Great Belt, and one on the West side in Korshavn.
If you are a family with smaller kids, then Korshavn is definitely the place for you. The water is very mild in the harbor and there is primarily sand all the way out into the water. Moreover, Fyns Hoved Camping is close by, so there is ample opportunity to grab a snack while enjoying the beach.
If Korshavn is a little to mild for you, then the east side of Fyns Hoved might be more to your liking. Here you are swimming in the Great Belt, and this can be a little wilder to swim in. It also gets deep quite fast, and there are bigger opportunities for bigger swells.