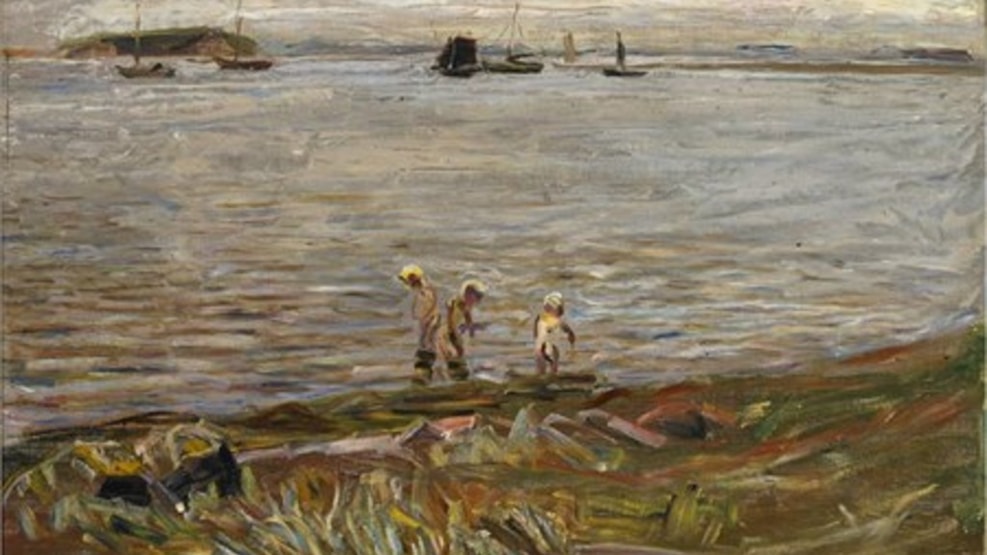 Fritz Syberg: Bathing children at Korshavn
Fritz Syberg: Bathing kids at Korshavn. 1908.
Fritz Syberg has painted his three youngest children bathing at Korshavn: an old natural harbor, which is safely sheltered by the headland Korsøre and Mejlø's cliffs. Korshavn has always been a place where Kerteminde's fishermen could seek shelter in the event of a storm. Nowadays, the harbor is often used by yachtsmen.
Syberg's three light-haired children are at the water's edge, at the bottom of the bay of Korshavn, where we have a clear view over the fishing boats, Korsøre and Mejlø. It is a beautiful summer day and Syberg has let the clear low water with its fine little ripples, play the main role in the painting. With a very high horizon line, we can only see a bit of the summer blue sky with light clouds that, together with the lush beach vegetation, are reflected in the clear water. Fritz Syberg painted the subject with fast, large strokes, so that the different colors: red, green, yellow and blue stand out. As an artist, Syberg tended to change style and palette from year to year.
In this painting from 1908, the many colors blend into each other to an extent, and the overall color scheme gets somewhat brownish, this lead art critic – and later director of the State Art Museum – Leo Swane, to baptize Syberg's 1908 style "the brittle Syberg". Similarly, in 1909 he called Syberg's style "the variegated Syberg".
Bathing children was a popular motif in the early 1900's, when healthy outdoor life became modern and a vitalistic trend arouse in Danish painting. Vitalism was based on the cultivation of nature and man, body, health and expression, and inspired many of the artists of the time. The surroundings today are almost the same as when Syberg and his family were there over 100 years ago.