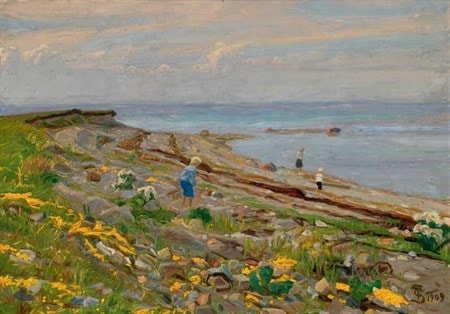 Fritz Syberg: The artist's children on the beach
Here, Fritz Syberg has painted his children playing along the beach on a warm sunny day, the water Is calm, the sky is blue with soft clouds. The image evokes peace and calm, summer heat, man and nature that unite in pure harmony. It is a vitalistic motif that gives an optimistic impression of man's relationship with nature, as do the other paintings of the children playing in the water or on the beach.
The children are not the main motif here, instead they naturally slip in as part of the lovely summer landscape. The water is quiet and good-natured and the beach flowers are in full bloom, together with the small cliff, they almost embrace the three barefoot children.
The area where the children play was one of Syberg family's favorite bathing places on Funen's Head, this is probably due to its fine, clean sandy bottom and the very shallow water, which makes it safe for young children. You can hike all the way to Tornen, the flat shore that creates sort of a shallow basin, and which the area's birds also appreciate.
The little cliff to the left of the painting has changed a lot over the past 100 years, as the water has gradually eaten into it, otherwise you can enjoy the very same surroundings as Syberg's children did during the summer time.