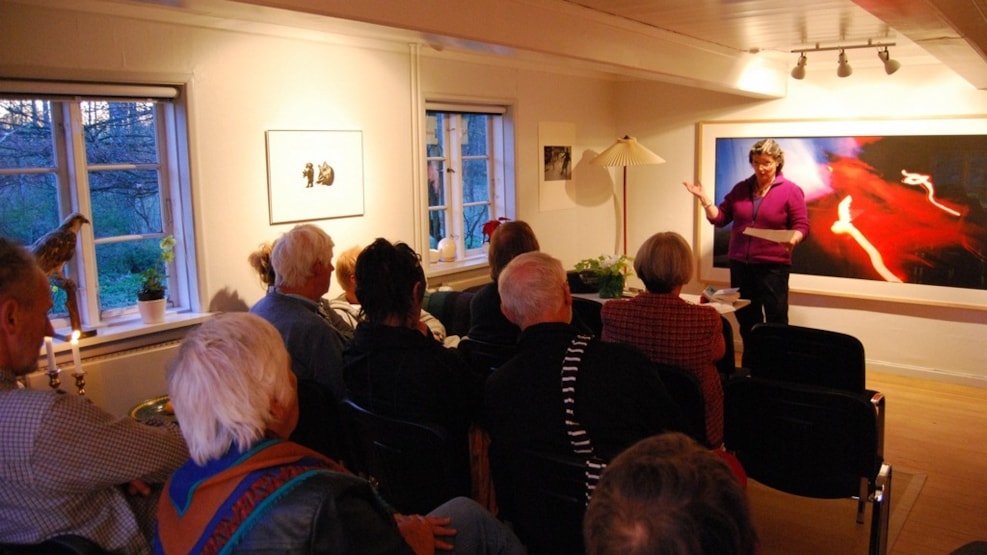 THE MICRO HIGH SCHOOL JANUS
T
he micro high school Janus is a place of education with character of a high school, situated on Hindsholm about 5 km northeast of Kerteminde. The school was established in 2009 by Lisbet Marschner and Finn Thrane and offers courses in humanistic management philosophy, depth psychology, and 'photo inspiration', where participants are invited to playful and existential dealings with the photographic media. Micro School is located in an old ranger accommodation and is situated idyllically in a forest glade on the edge of a late medieval rampart opposite Old Broløkke, a former manor belonging to the Hverringe estates.
In addition to short courses that are advertised on the website, the micro high school opens up for visits on high school evenings publicized in the press, as well as for pre-registered groups of 5-15 persons wishing to visit the 'micro-gallery' and to get an introduction to 'the photograph as an art form' through the current exhibition. (further information: "Galleries" and www.mikrohøjskolen.dk.)
Lisbet Marschner originally studied art history, but for more than 30 years has worked both as a psychotherapist with private clients and as a consultant in management issues for various occupational groups (managers, nurses, judges, doctors, and priests). Alongside this work, Lisbet Marschner created study groups as 'Lead yourself before you lead others' and mediated awareness training from various angles, including for example the work with the subconscious through dreams and meditation, see www.lisbetmarschner.dk.
Finn Thrane has a master degree in literature and film and taught at Askov before he got the challenge as founding leader and for 22 years director of the Museum of Photographic Art at Brandts in Odense. Employment as an editor and writer for Danish and international photo artists after retirement in 2007 has rebounded and opened up his own artistic activity with a camera, see www.finnthrane.dk.